Where We Fish

We offer guided crappie trips on Mark Twain Lake.  This is a laid back experience and is designed form those looking to enjoy a day on the water.  We are set up to accommodate the family on our 24ft. pontoon boat or a couple anglers in our 22ft Ranger.  Although we fish all species on Mark Twain and we will allow you to try for the different species we are not experts in other areas.  We can recommend other guides to enhance your fishing.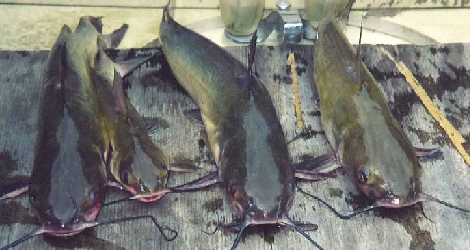 We have at times offered over night catfish trips to include rod n reel, trot line, limb lines, and jugs.  When the lake turns over this fishing is the best you will fins in the state.  This is very limited and if you have interest we encourage you to contact us.
If floating down the Missouri River while fishing for catfish is something you are after, we can provide a great experience as well.  We have fought some 70lbs. on jugs with the average ones being between 6lbs. and 20lbs.
As fishing is not our primary guide service, our dates and availability are built around your trip plans.  We can offer any type of accommodations without trips form one day to several days with lodging and meals as well. 
We are glad to offer you a great time on the water and you will soon forget about work and enjoy the outdoors.  Bring the family or your buddies for a relaxed fishing adventure.